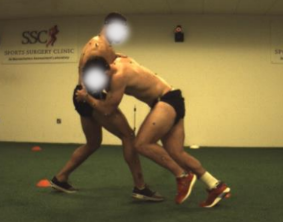 Rugby Collisions
Sports injuries are very common in contact sports such as rugby. Sometimes it's hard to diagnose some injuries, such as concussions, in the field due to lack of immediate symptoms. We aim to use pose estimation combined with multibody simulation software (MADYMO) to study those injuries.
Learn More
Athlete Rehabilitation
Further developing pose estimation models to establish biomechanically meaningful data from footage of athletes rehab exercises to support physios making assessments.
Learn More
Soft tissue mechanics
Investigating the mechanical tension-compression asymmetry in skeletal muscle.